Continuing on my fashion kick with a story about the March 8th launch of Marni for H&M. I got to work a little early yesterday and as I was walking to my office I remembered about the launch. I promptly turned myself around and headed straight for the flagship H&M by me.
When I got there there was a what looked to be a manageable line but when I got there and encountered a security guard I knew I had underestimated the endeavor. He told me that the folks on line were there for 9am entry and that I needed a wristband (he sent me inside). When I got inside I was directed to Jerome who gallantly gave me a blue wristband for a 12pm slot ('get here by 11:50am he said). I said ok and thought to myself, no big deal. If I get busy I just won't go but atleast I have a timeslot.
At 11:50am I was online (using my lunch hour of course) and was let in on time but not before a grey standard issue suit lovely woman gave us the run down. It went a little something like this, 'There will be no running, no pushing, and no yelling. If you do any of these things you will be escorted out by security'. Well alrighty then!
When I got inside I noticed that my 12pm slot left me with little to almost no options. I gathered up what you see below (there were maybe 3 other pieces that I bypassed). The dress is awesome and I plan on wearing when my husband and I go to Jamaica at the end of the month. Score!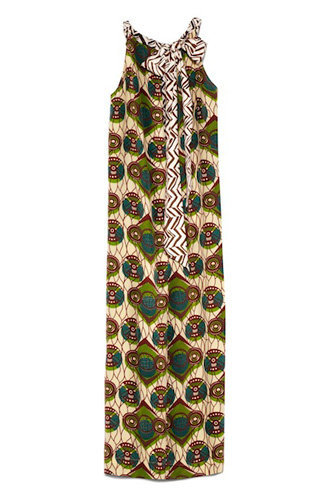 The shorts I got are a hot pink with a teal trim version of the ones below and the brocade shirt is the same pattern of a skirt I picked out for my friend Rachael. The swimsuit is questionable and I may return it but again I caved under pressure and just grabbed what I could in my size since you were only allotted 20-30 minutes before they moved you on.
What do you think of my pieces? Do you love and should I keep the swimsuit?
Photos by Josh Collins for H&M